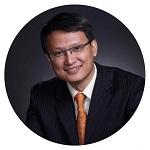 Xiaohua Zhou
Senior Vice President of Veolia China,  Hazardous Waste
Zhou Xiaohua graduated from Tongji University in Shanghai and obtained his Ph. D in France. He has also got an EMBA from Guanghua School of Management in Peking University. Mr. Zhou has been working in the environmental protection and energy sectors since 1982 and has conducted environmental research at a design and research institute in China and the National Research Center in France. Mr. Zhou joined Veolia in 1994 and now serves as the Senior Vice President of Veolia China and in charge of hazardous waste business. 
Mr. Zhou Xiaohua has more than 30 years of experience in the field of environment, energy, and circular economy. He has advocated for energy conservation & emissions reduction and sustainable development. He is also committed in promoting new environmental protection initiatives and new technology applications in China, as well as the development of China's PPP model in public service and environmental industry development in the industrial field. 
He has been leading the Veolia China's waste team in building and operating some pioneering projects in China, including Guangzhou Xingfeng landfill, Guangzhou Likeng Plant, Tianjin Hazardous Waste Integrated Treatment Center and so on. He also promotes and practises fine management in operations, especially in the hazardous waste industries, which makes Veolia the leading company in China for hazardous management. In the past 10 years, he also led his team to focus more on circular economy topics and developed several major projects including plastic recycling, ship dismantling and battery recycling.