Veolia group aims to be the benchmark company for ecological transformation. With nearly 220,000 employees worldwide, the Group designs and provides game-changing solutions that are both useful and practical for water, waste and energy management. Through its three complementary business activities, Veolia helps to develop access to resources, preserve available resources, and replenish them.  
In 2021, the Veolia group supplied 79 million people with drinking water and 61 million people with wastewater service, produced nearly 48 million megawatt hours of energy and treated 48 million metric tons of waste. Veolia Environmement (listed on Paris Euronext: VIE) recorded consolidated revenue of €28.508 billion in 2021. 
Veolia in China
Since the early 1990s, Veolia fast established itself as a leader in water, waste and energy services in Greater China, taking responsibility for some of the nation's most prized assets and setting institutional benchmarks for ecological transformation across the nation.
Today, Veolia China serves more than 100 sites in around 50 cities of Greater China. Veolia China offers a full spectrum of water, waste and energy management services, including water and wastewater treatment, solid and hazardous waste treatment, energy management, resource recovery and on-site services for industry.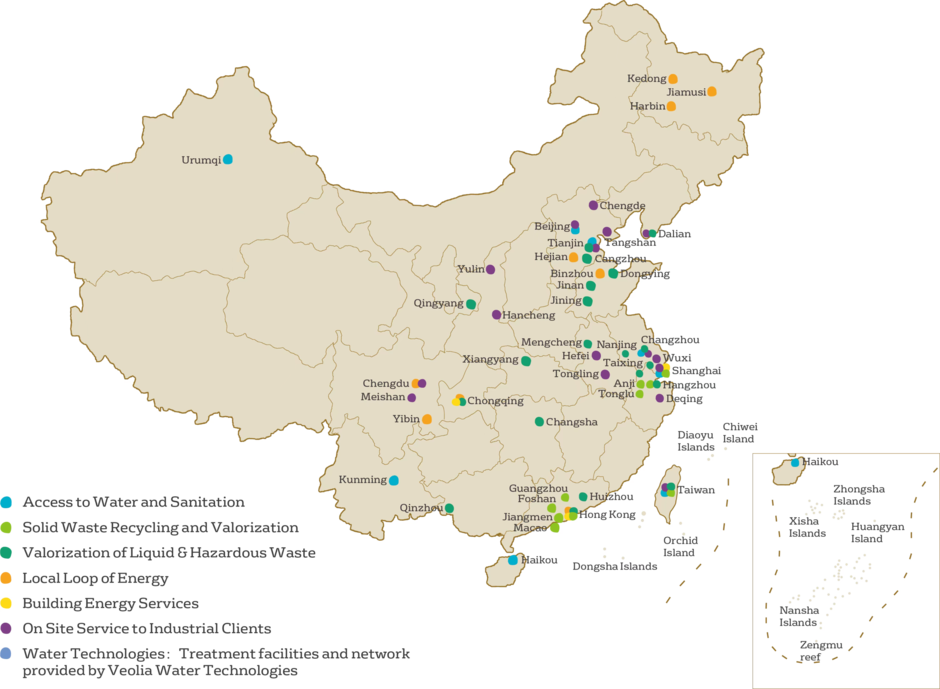 Key Figures (Veolia China 2020)
- Provided 33.9 million of people with drinking water 
- Inputted 4 billion m3 of drinking water to network
- Collected 1.5 billion m3 of wastewater 
- 11.6 million of people connected to our wastewater networks
- Produced 1.7 million MWh of renewable energy from waste
- Treated 451k tonnes of hazardous waste 
- Over 1400 clients served by hazardous industrial waste collection
- Produced 5.8 million MWh of energy 
- 1.4 million people connected to district heating network
- 26.5 million m3 of cooling water produced
- 42.6 million m3 of process water produced for clients
- 43.4 million m3 of effluent treated