Veolia group is the global leader in optimized resource management. With nearly 178,780 employees worldwide, the Group designs and provides water, waste and energy management solutions that contribute to the sustainable development of communities and industries. Through its three complementary business activities, Veolia helps to develop access to resources, preserve available resources, and to replenish them.
 
In 2020, the Veolia group supplied 95 million people with drinking water and 62 million people with wastewater service, produced nearly 43 million megawatt hours of energy and converted 47 million metric tons of waste into new materials and energy. Veolia Environment (listed on Paris Euronext: VIE) recorded consolidated revenue of €26.010 billion in 2020 (USD 31.55 billion).
Veolia in China
Veolia is the pioneer of environmental conservation industry in China. The company has been providing resource management and environmental solutions to municipalities and industries in China since 1990s , and currently manages more than 100 sites in around 40 cities of China (including Hong Kong and Taiwan). The company has a strong presence in China, where its waste, water and energy activities are at the heart of sustainable development in China: resource conservation, environmental protection, recycling and sustainable economy, and social development.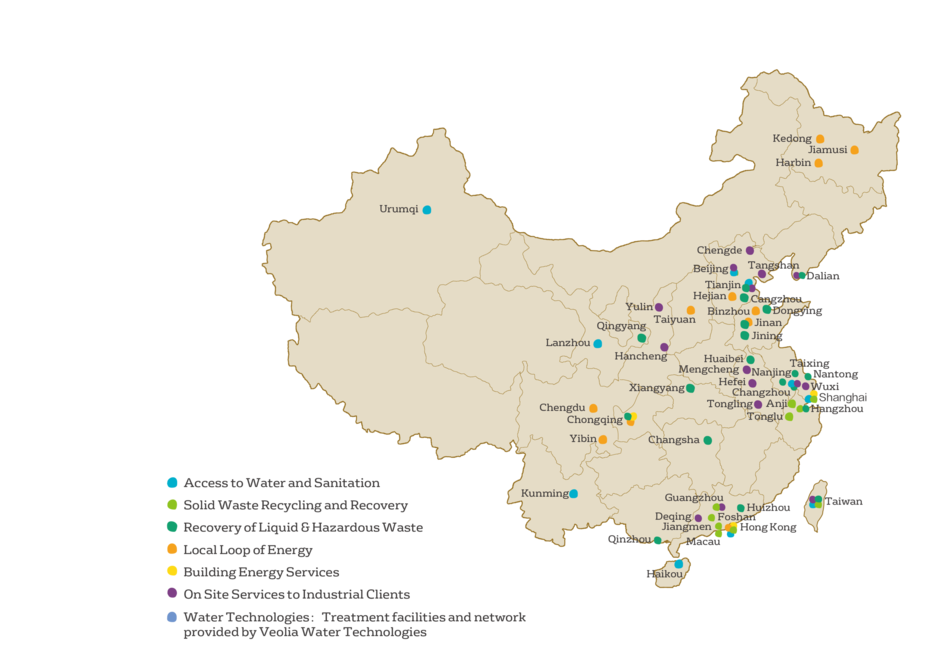 Key Figures (Veolia China 2020)
- Provided 33.9 million of people with drinking water 
- Inputted 4 billion m3 of drinking water to network
- Collected 1.5 billion m3 of wastewater 
- 11.6 million of people connected to our wastewater networks
- Produced 1.7 million MWh of renewable energy from waste
- Treated 451k tonnes of hazardous waste 
- Over 1400 clients served by hazardous industrial waste collection
- Produced 5.8 million MWh of energy 
- 1.4 million people connected to district heating network
- 26.5 million m3 of cooling water produced
- 42.6 million m3 of process water produced for clients
- 43.4 million m3 of effluent treated