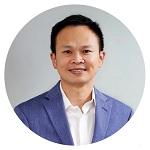 Jyhsheng Chi
Business Development Director, development activities in Taiwan
Jyhsheng Chi is the Business Development Director, in charge of development activities in Taiwan.
He joined VEOLIA in 2012 as an associate principal in North America. Jyhsheng served as a change agent to support municipalities saving both capital and operation costs through culture changes and data analytics. He joined the Asia business development team in 2016 and was assigned to Taiwan in 2019.
Jyhsheng holds a MSc in Civil Engineering from Columbia University in the City of New York as well as a certified Project Management Professional since 2005.