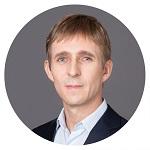 Jan Klasinski
Senior Vice President of Veolia China, Growth
Jan Klasinski is the Senior Vice President of Veolia China and he is in charge of business line of Growth.
Prior to working in Veolia, Jan experienced a comprehensive range of corporate and operational finance related positions. He started his career in Investment Banking at Warburg Dillon Read (1999-2002), then worked at Unilever from 2002 to 2008 in different finance roles and geographies (Management Accountant, Group Corporate Audit, Global Finance Manager of the Beverages category and Country CFO for Tunisia-Libya). In 2008, Jan joined Veolia Asia-Pacific as Deputy Finance Director in Hong Kong. 
In 2012, he became the CFO of Japan, South Korea and Australia-New Zealand. From 2008 to 2013 onwards, Jan was principally in charge of the corporate restructuring plan of Veolia Japan where he led the country from a significantly negative cash position to a structural positive cash generation.
In 2014, as Managing Director of Veolia India, based in New Delhi, he launched the industrial services business line. He defined and executed the entry strategy, resulting in the first signed industrial outsourcing projects and the acquisition of Detox Hazardous Waste Business in India (now home to the largest Hazardous Waste site in the world for Veolia). In 2018, he was appointed Vice President of Veolia China for Industrial Energy, which soon expanded to Industrial Energy, Water and Waste in 2019.
With more than 21 years of professional experience in finance, operations and corporate development gained in Europe, Africa and Asia, Jan has an in-depth understanding of numerous industries and challenging business environments (M&A, Corporate recovery, New Ventures).
Jan holds a BSc in Philosophy, Politics & Economics (PPE) from Institut d`Etudes Politiques de Strasbourg (1997) and a MSc in Management from ESCP-Europe (2001) as well as a Chartered Financial Analyst Level III (CFA).