International Day for Biological Diversity 2021 is beijing celebrated in May 22, under the slogan: "We're part of the solution #ForNature". Human activities are important causes of  biodiversity loss and nature degradation, but we can act to turn things around. As an important player in society, biodiversity priority has always been part of Veolia's commitment to stakeholders, both in past strategies and in today's

ecological transformation
.
Biodiversity refers to the enormous variety of life on Earth, through which human beings interact with other species and jointly maintain the normal operation of different ecosystems. These ecosystems ultimately act on the purification of water, air regulation and other natural functions, and protect the stability of the environment of our planet. Today, however, biodiversity is seriously threatened by human activities globally and is being destroyed at an unprecedented speed.
Veolia includes biodiversity in our IMPACT 2023 strategic plan and measures environmental protection and biodiversity annually as part of our environmental performance, with a 75% completion rate of the action plan committed to improving the environmental and biodiversity footprint of sensitive projects by 2023.
Biodiversity diagnostics: a comprehensive footprint assessment approach
To achieve this goal, Veolia examines and diagnoses the local ecosystem and environment. Biodiversity diagnostics - simple observations and assessments of site activities to identify potential biodiversity loss and the possibilities.
This year, Veolia worked with professional ecologists and developed a comprehensive footprint assessment approach. After on-site visits and assessments, local biological experts develop different plans based on the different level of ecosystem risks at each site. The assessment factors include local emissions, local ecological conditions and green land management. By mid-May of this year, we had completed six of the seven sites to be evaluated in Asia, working with ecologists. 
Preserving biodiversity at Hangzhou Lijia Hazardous Waste Treatment Facility
To preserve biodiversity in the project site, Hangzhou Lijia Hazardous Waste Treatment Project set up a designated protected zone for biodiversity in 2016. Almost 100 plant species and 15 types of protected fruit tree species can be found in the area at present. Wild animals like chicken, rabbit, Siberian weasel, snake and hedgehog are spotted in the area.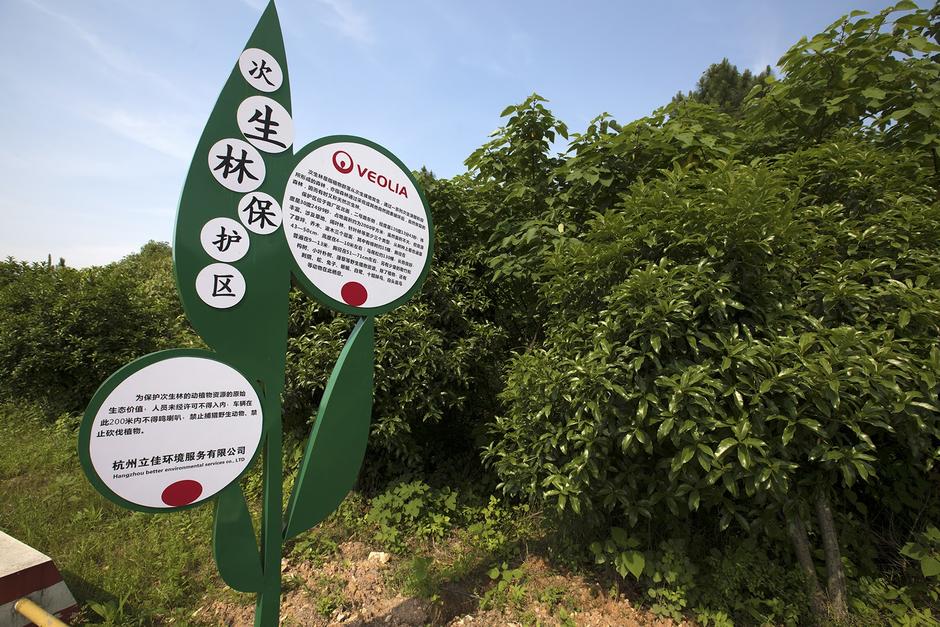 Restoring wetland and biodiversity at  Beijing Yanshan Sinopec
Around 2 km west of Fangshan District, Beijing locates a quiet and vibrant wetland park——The Niukouyu Wetland Park. It is now a people's favorite leisure center and a lovely ecological wetland that wild animals would like to visit. However, it was originally Niukouyu Ecological Center, a reservoir used for sewage treatment by Yanshan Petrochemical. In June 2017, led by Yanshan Petrochemical, Yanshan Veolia carried out a comprehensive rehabilitation for the eight-hectare ponds. The wetland park currently hosts as many as 144 bird species. It has improved the environment and quality of life for local residents, while restoring the damaged ecosystem.
It preserves biodiversity and it is also a process of preserving micro-ecosystems. We use natural systems and technical systems to imitate the natural processes, and ultimately improve the overall quality of the environment and make the ecological transformation a reality.