Veolia brings years of experience in water cycle management for the oil and gas industry to reduce overall water footprint and boost water recycling rate in the Yanshan petrochemical complex.
In 2006, Sinopec selected Veolia as its partner for a joint venture established to improve the operation and maintenance of its wastewater treatment system, as well as to improve the capacity and efficiency of Beijing Yanshan Petrochemical (BYPC) wastewater recycling. This cooperation with Veolia leverages the latter's outstanding technical expertise in the water industry, allowing Sinopec to focus on its core business. 
In 2016, the scope of cooperation expanded to the entirety of BYPC's water cycle management (including cooling water, demineralized water, industrial water, drinking water, chilled water, and firefighting water) with the objective of upgrading wastewater treatment plants and optimizing energy management. It has reduced the site's water and carbon footprints and brought it into compliance with increasingly stringent emission standards.
m³/day
Industrial wastewater
m³/day
Demineralized water
m³/day
Recycled cooling water
Yanshan Niukouyu Wetland Park
Around 2 km west of Fangshan District, Beijing locates a quiet and vibrant wetland park——The Niukouyu Wetland Park. It is now a people's favorite leisure center and a lovely ecological wetland that wild animals would like to visit. However, it was originally Niukouyu Ecological Center, a reservoir used for sewage treatment by Yanshan Petrochemical. In June 2017, led by Yanshan Petrochemical, Yanshan Veolia carried out a comprehensive rehabilitation for the eight-hectare ponds. The wetland park currently hosts as many as 144 bird species. It has improved the environment and quality of life for local residents, while restoring the damaged ecosystem.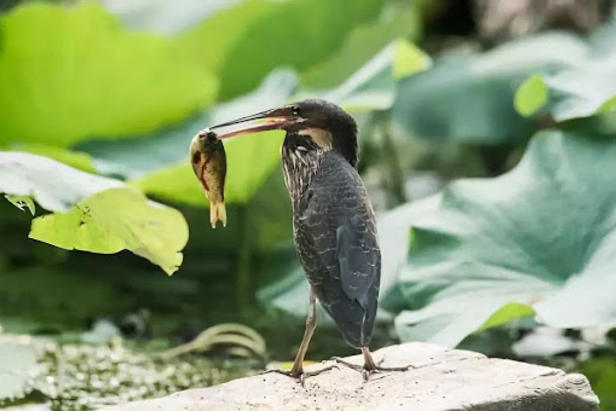 Yanshan Niukouyu Wetland Park
The wetland park currently hosts as many as 144 bird species, including Grade I nationally protected black storks, and Grade II nationally protected mandarin ducks, sparrow hawks, and kestrels. Kingfishers, a species extremely sensitive to water quality, also nest and reproduce in the wetland park. So far, four generations of kingfisher have reproduced in the Niukouyu Wetland Park, making it a popular shooting location for Beijing's photographers.
In May 2019, reed parrotbills, nicknamed 'the panda of birds', were found to have reproduced in the wetland park as well, a testament to the continuous improvement of its eco-environment.