On February 1, 2021, Veolia Huafei Polymer Technology (Zhejiang) Co., Ltd. received a certificate from the Food and Drug Administration (FDA) to validate the production system of recycled polyester (PCR-PET) has obtained the official approval of the US FDA.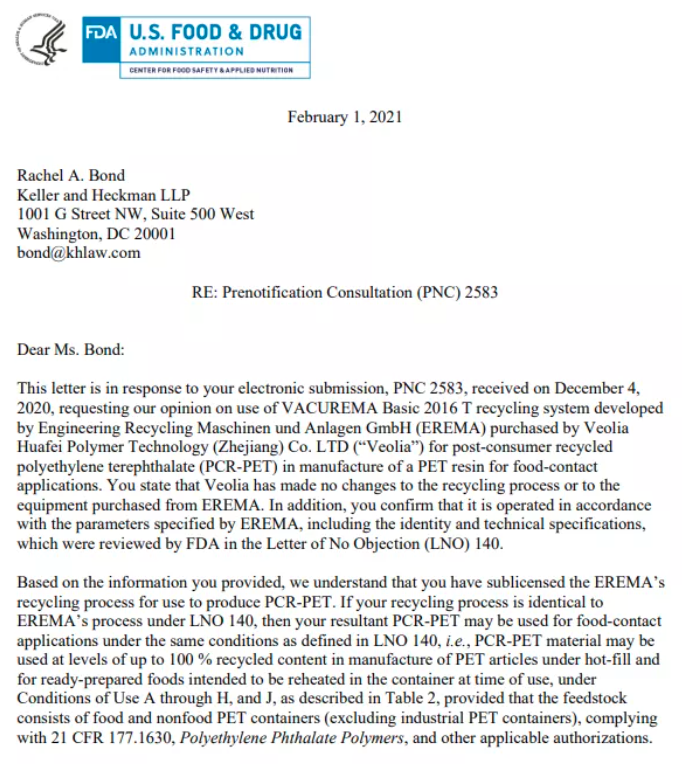 Veolia Huafei has become China's first new environmental protection enterprise that has received FDA official certification for the production of recycled polyester chips in food and non-food applications. This article will reveal the story behind China's first FDA certification in plastic recycling!
The recycled PET material produced by Veolia Huafei can not only be used in normal temperature and freezing environments, but it is also suitable for product containers and food containers that have to be reheated during its use. Up to 100% of the materials that it is made out of can be recycled.
Including FDA certification, Veolia Huafei has successfully obtained the Global Recycled Standard (Global Recycled Standard) system certification in 2016; they have also obtained the certification approved by EuCertPlast in 2017 (EuCertPlast was included in the German Blue Angel Program in 2013). They are actively striving to obtain validation from the European Union EFSA (European Food Safety Authority) and other related certifications. Based on their achievements, Veolia Huafei Food-grade PCR-PET can cover all types of food-grade applications and at the same time provides a full range of solutions in food packaging.
As the first environmental protection company in China that can produce recycled polyester chips for both food and non-food applications, Veolia Huafei has been committed to high-value plastic recycling.
By introducing advanced production equipment such as EREMA, SESOTEC, TOMRA, Veolia Huafei provides the world's leading food-grade PCR-PET solution, promotes the upgrade of the full-cycle industry chain, and supplies customers with cleaner and safer food-grade recycled materials.
The food and beverage industries are increasingly accelerating their "pace of plastic reduction" and the transition to 100% rPET. With the advancement of relevant regulations and certifications, the recycling of food-grade plastics will enter a brand new era.
Veolia Huafei is committed to provide safe, reliable and traceable recycled packaging materials to the food and beverage industry, promote Ecological Transformation, and be a key player in achieving China's 2060 carbon neutral goal.