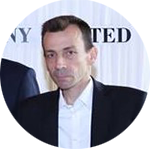 Etienne Frouin
Capex Delivery 
Etienne Frouin has been appointed Director of Capex Delivery of Veolia Mainland China and Macau since March 2022.
With his strong expertise, Etienne has more than 25 years of professional projects management experience in whole process Projects Execution on various type of plants across the global regions.
After Etienne's first job as Project Manager at EIFFAGE where he was responsible for Design & Built Electrical Projects in France until 1999, he took the position as Project Manager at VINCI from 1999-2001 for managing design and building for projects overseas including power plants in Gabon.
From 2001 to 2013, Etienne joined Degremont, subsidy of SUEZ, from Project Manager to Execution Director, he accumulated delivering successfully in the Execution management of water treatment plants and wastewater treatment plants in Gaza, Algeria, Egypt, Qatar and India. Etienne scale up his Execution management roles to Senior Project Manager for SUEZ energy from waste project in Poland from 2013 until 2017.
In early 2017, Etienne was appointed Execution Director of Recycling & Recovery, SUEZ Asia for managing Execution from design phase to commissioning and hand over for both hazardous waste incineration projects and solid waste incineration projects domestic and overseas, located in Jiangsu, Guangxi, Shandong, Anhui, Taiwan and Thailand. Etienne holds Electric Mechanical Engineering Degree at Engineer School, ESME Sudria Paris.