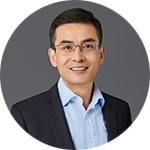 Daniel QIN
Growth
Daniel QIN, Vice President of Growth, joined in Veolia China in August 2022, is responsible for business development and implementation of Veolia China's growth strategy.
Daniel has more than two decades experience in chemical industry. Started his career as a chemical engineer, Daniel had worked for Sinopec, Bechtel and BP successively and worked in China, USA and UK on engineering design of various petrochemical projects, later he joined Air Liquide and moved to a business development position, since then he had been involved in business development and M&A activities in China and Southeast Asia. Daniel has extensive business experience and excellent track record, from creating a Joint Venture with Sinopec, landing the first hydrogen cooperation with MNC in Southeast Asia, to entering into supply agreement with Chinese top steel customer via the ever largest single-train ASU investment reference etc. Prior to joining Veolia, Daniel was clean hydrogen director at Linde APAC, responsible for business development of clean hydrogen and decarbonization in Asia Pacific, in particular in China.
Daniel holds a degree in chemical engineering from East China University of Science and Technology and MBA from the University of Hong Kong.