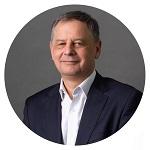 Thierry Stievenard
Industrial
Thierry Stievenard, joined in October 1991, has been working with Veolia for nearly 30 years. He is the Senior Vice President of Industrial in Veolia Mainland China & Macau.
After his first employment as an Officer in the Merchant Navy, Thierry worked as the Production and Technical Director in Paris for 10 years, and later on he became the CEO of one of the biggest heating networks in the Paris urban areas.
With his technological expertise in heating networks, he transferred to Estonia in 2002 as the Operation and Technical Director to run the major local district heating for 4 years. 
Until 2006, he began his journey in China as Operation and Technical Director and led his team to work on the operation and development in the field of energy solution and services. 
With strong practical expertise, Veolia successfully established and has won initial district energy contracts in China. Up until today, these contracts are still a significant part of our portfolio of Veolia in China Mainland.
As the leader of the Local Loop of Energy segment, he has developed a powerful team to support the operations of the projects in China. Currently, his team manages and operates in over 10 energy networks for both municipal and industrial clients, such as the Harbin Power & Heat project which has expanded its serving area from 0 to 33 millions sqm.
On the other hand, he also actively explores new areas for energy solutions and continues to contribute massively in some of the industrial on-site services in China from 2019, such as Tangshan & Tianjin Soda where Veolia provides industrial water treatment services.