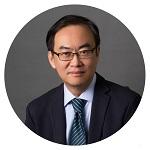 Ted Wang
President of Onyx Ta-Ho Environmental Services Co., Ltd by Veolia
Waste management

Wastewater management

Energy management
Ted Wang joined Veolia Group in 2007 and has led Onyx Ta-Ho Environmental Services Company for more than 13 years.
Since its establishment in 1992, the Company has been actively involved in the waste management market in Taiwan.  With its outstanding performance, it has been accredited by the local authorities and built up a professional brand image.  Under his leadership, Onyx Ta-Ho entered the wastewater management market in 2012 and has been more active in the development of energy management in recent years.
Ted believes that it is indeed a challenge to lead a team, make it grow stronger, and work together to accomplish the goals set together. However, the more far-reaching value of management lies in influencing others, serving others, and even a kind of ambition to benefit others.
Ted leads colleagues to in-depth discussions on the soft power of the company, advocates a corporate culture of "respect, empower and inclusive", encourages colleagues to find the meaning of their work, promises to create value with the team and achieve personal development, and grow with the company.