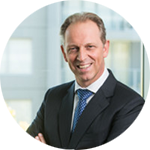 Mark Venhoek
Chief Executive Officer of Veolia Mainland China and
Macau
Mark Venhoek has been appointed Chief Executive Officer of Veolia Mainland China and Macau effective March 2022.
Mark's career within waste and water businesses Executive Management spans over 30years. He started his career at BFI Netherlands as part of an International Management Development Program where he spent a year working for them in the US.
Mark continued working in the Netherlands from 1996 in various management roles from District Director, Regional Director to eventually becoming Chief Operating Officer. In 2004 he became Chief Executive Officer of SITA Germany, managing the waste management activities in Germany, where he successfully led the restructuring and turnaround of their business.
After becoming Chief Operating Officer of SITA Northern Europe Waste Services, covering the activities in Germany, Netherlands, Belgium and Luxemburg, Mark, in 2008, was appointed Chief Executive Officer of SUEZ' waste activities in Asia and under his dynamic and engaging leadership, the companies' development and profitability grew significantly.
In 2015 Mark became Chief Executive Officer of SUEZ Australia & New Zealand, where he was responsible for Water and Waste operations. Under his strategic leadership, both businesses were integrated and strongly developed to become leading entities in their
respective markets.
Mark holds a bachelor's degree in economics and Supply Chain Management from the Arnhem Higher Business school of Economics, The Netherlands. He has held multiple board positions within the industry in the respective geographies he worked in.