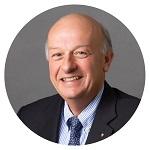 Luc Zeller
Senior Executive Director of the Asia Zone
Luc Zeller is the Senior Executive Director of VEOLIA Group in Asia, in charge of Veolia activities in Taiwan as the BU Head.
He joined VEOLIA as a Financial Controller in 1983, two years after graduating from Emlyon Business School.  In his 38-year career journey with VEOLIA, Luc spent more than half of his professional life in Asia; started from Singapore in 1997, then Shanghai; and now he is based in Beijing. 
With years of experience in Finance, and to contribute towards the group's needs, Luc began his new journey in business management. He primarily focused on establishing and developing the VEOLIA wastes management activities in the facilitation of biodiversity target; and he encouraged transversal collaboration in areas such as waste collection and street cleansing (Singapore), Municipal  Waste to Energy and landfilling, soil remediation (Hong Kong Region and Taiwan Region) and Hazardous Waste treatment in Mainland China. 
Luc regards Health and Safety very highly. He values all opportunities to endorse this topic and aspires to improve the working environment for employees.
Besides his duties in VEOLIA, Luc has also taken up some social responsibilities to fulfill  VEOLIA's commitment to the society by connecting with Tsinghua University in Beijing and supporting the activities of Emlyon Alumni Business School in Shanghai.