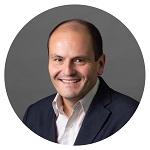 Laurent Pelletier
Managing Director of Veolia Hong Kong
After a few years in a Consulting Firm that brought him to different continents, Laurent Pelletier joined Veolia twenty years ago and has not quit Asia ever since.
He started in Shanghai in the water business, taking different positions in Pudong Veolia Water, acting at the end as a COO.
In 2010, Laurent moved to Hong Kong to take the position of CTO for Asia and support our operations and fast growth in the region.
In 2019, he took over the responsibility of Veolia Hong Kong and diversified Veolia's portfolio of activities there, not only focusing on waste management but also energy optimization for buildings.