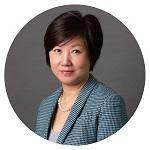 Julia Gu
Senior Vice President of Veolia China, Municipal 
Julia Gu, as a rare female leader in Veolia's business units, she has been appointed the Senior Vice President of Veolia China in business line of Municipal.
She joined Veolia Beijing Office in early 1998 and started her business in the Water sector. In 2002, she obtained her first operational experience by overseeing the facility of the Shanghai Pudong Water Concession Project, which was also Veolia's first milestone in the water business of China. Julia has spent 17 years in this significant project and progressed through various positions. From Finance Controller, to GM and Chairman. Eventually, she has successfully transformed this project with her team, from a conventional State Owned Water Company into a Smart Digital Oriented Water Company, and significantly improved the efficiency and productivity of the business.
In 2016, 9 water concessions and 4 BOT projects in China were under her leadership and management, and these successes were achieved from her solid operational experience, and her ability to adapt good practices from one project to another.  
In Veolia, she did not just limit her exploration and growth in the water segment. With her outstanding business performance,  she also took over the Building Energy Service segment, and the Industrial Service of Pharmaceutical and Cosmetic companies (new business sector) in 2019.