Located in Yangpu district, Shanghai Municipal Engineering Design Institute (SMEDI) is a first class national engineering company, with a total
construction area of 55,508 square metres, spanning 18 floors. 
An air-source heat pump system located on the roof is used as the heating and cooling source for the building's air conditioning system. The air conditioning terminal also includes a fresh air intake, variable air volume system and fan coil units. 
Veolia Energy Technology (Shanghai) provides tailor-made solutions for customers to optimize the air quality of their buildings. By controlling the environmental maintenance of the building, Veolia guarantees customers high indoor air quality and both economic and energy efficiency for the building itself.
800

ppm
of indoor carbon dioxide content
24-hour quantitative monitoring and management of indoor air quality
Significant improvement in filtering fine particles and microorganisms to ensure indoor air quality meets sustainable health standards
Optimized airflow to improve indoor environment comfort
Home-grown IOT platform
Real-time data monitoring (by the second)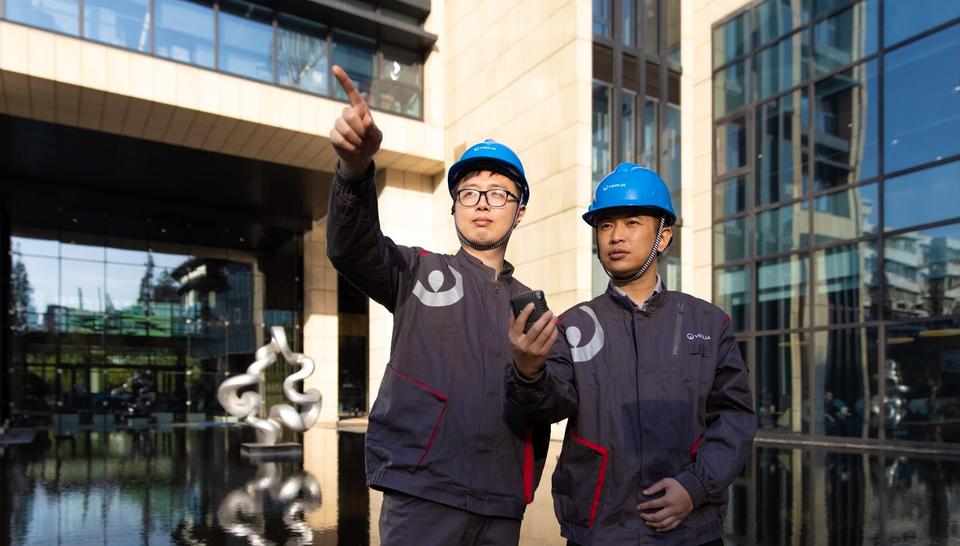 In order to ensure that the indoor air quality continues to be excellent, Veolia conducts all-round real-time air monitoring of the building, optimizes the air treatment system in the building, and finds and treats fine particles, microorganisms and even viruses in the indoor air that may be harmful to human health. At the same time, Veolia also realizes the aggregation, analysis, evaluation and research of real-time data through the monitoring center. The data is formed into a report as the basis for the adjustment of the solution. Veolia also provides customers with more energy-efficient and cost-effective solutions on the premise of ensuring high-quality indoor air.