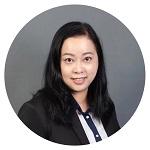 Abbie Fung
Finance Director - Veolia Hong Kong, Veolia China
Abbie Fung is the Finance Director of the Hong Kong business unit and she is also the Finance Director of ERP system and structure costs sector of Veolia China.  
She joined Veolia in 2003 as a Financial Controller for the Veolia Water business across Asia.  And she has been appointed as a Finance Director since 2014 to cover the integration and various topics of the Energy, Waste and Water business in China.   
During the past years with Veolia, she has been involved in a number of projects, corporate/country level roles and JV board member.  
She is experienced in project management, finance controlling and reporting across the different stages over the past 18 years of experience.  She also brings added value to the business and delivers change management and optimization of the organization.  
Abbie is an Authorized Employer and a member of Hong Kong Institute of Certified Public Accountants (HKICPA).